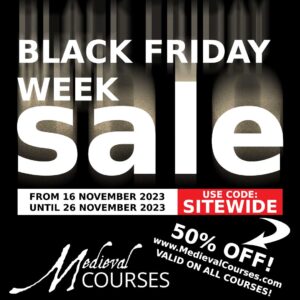 We'd like to invite you to enjoy our Black Friday Week Sale - that's a huge 50% off everything on our learning website!
Use the code SITEWIDE when choosing your next Medieval course and you'll save half of the normal price. Valid from 16th to 26th November 2023.
You can choose from all of our courses, and even get a gift certificate at the discounted rate. That means you can give the gift of knowledge to a loved-one and not break the bank.
Why not look at:
Don't miss out on this opportunity to join the growing number of MedievalCourses students.