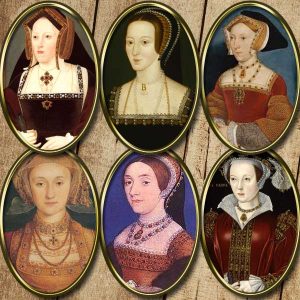 Henry VIII was one of the most powerful, divisive, and important monarchs in European history. Today, he is arguably most famous for his six marriages, two of which ended in the public execution of a queen and all of which showcased the era's fascinating, torturous attitudes towards power, sexuality, and faith. Fascination with Henry's wives shows no signs of diminishing in the 21st century, but they are also the subject of myth, fabrication, and popular misconception.
In this new seven-unit course, "The Six Wives of Henry VIII: Monarchy and Matrimony in Tudor England", historian Gareth Russell, author of A History of the English Monarchy: From Boadicea to Elizabeth I, The Emperors: How Europe's Rulers Were Destroyed by the First World War and the forthcoming Young and Damned and Fair, a biography of Henry's fifth wife, Catherine Howard, examines the fusion of political and private that shaped each queen's story, disentangles them from the myths that surround them, and uses each wife to explore a different aspect of monarchy in Tudor England. A final instalment covers how the wives became icons of popular culture, from William Shakespeare to the age of television.
Narrated by historian Gareth Russell.
Note: This is an online course of downloadable or streaming audio lectures which can be done in your own time and you have lifetime access to the course once you have signed up and paid. There is no set start or end date, you can do it at your own pace.
Click on "Full description" to find out more and click on the "Buy Now" tab to sign up and purchase.
Full Description
Course units:
Queens Regent: Katherine of Aragon and the problem of foreign alliances
The Rise and Fall of Anne Boleyn: Politics and personalities at the heart of Tudor government
Sweet Lady: Jane Seymour and the quest for the perfect Tudor queen
On Foreign Shores: Anne of Cleves and the experience of royal arranged marriages
The Queen in the North: Catherine Howard and the Queen as a symbol of Tudor monarchy
The Crises of 1546: Katherine Parr and the attack on the Queen's household
The Ghosts of Queens: The importance and fascination of Henry VIII's marriages
Buy NOW
What's included
Course Expert
Reviews
Questions
Gift Certificate
($30.00 is approximately £24.50/€28.20/46.60AUD)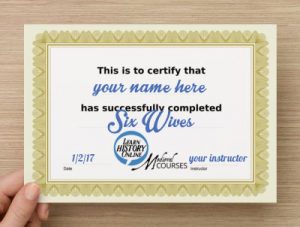 195 minutes of audio - both streaming and downloadable mp3 files.
Downloadable PDF transcripts of each lecture.
Further reading list.
End of module quizzes
End of course certificate.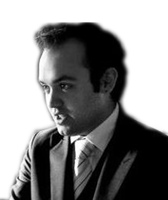 Gareth Russell read history at Saint Peter's College at the University of Oxford and he then gained his honours in medieval history with a postgraduate at Queen's University, Belfast. He has written two novels, stage plays and the following non-fiction history books:
The Emperors: How Europe's Rulers Were Destroyed by the First World War
,
A History of the English Monarchy: From Boadicea to Elizabeth I
and the forthcoming
Young and Damned and Fair: The Life and Tragedy of Catherine Howard at the Court of Henry VIII
.
He is a columnist for Eile magazine, editor of Tudor Life magazine and author of the blog Confessions of a Ci-devant.
Do I need to do the quizzes to complete the course?
No, they're optional but they're a good way of ensuring that you've taken in the information and they're also fun too.
How long does the course take?
You can do the course in your own time. Each lecture is around 20-35 minutes in length and you can download them and listen to them at your convenience, so you can set your own pace. You have lifetime access to the course.
Do I need to buy any books or extra materials?
No, the audio lectures and transcripts are all you need. There is a list of further reading material if you want to read more about the subject, but this is optional.
When does the course start?
Our courses are online and you can start at any time and complete the course in your own time.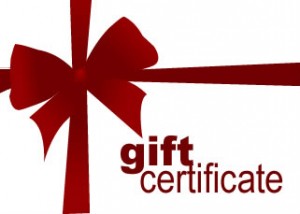 After purchasing this gift certificate you will be redirected to a page with a
printable gift certificate code
. This code will enable the user to have
FULL ACCESS
to the course you have chosen, when redeemed.
Make the day of a history lover with these gift certificates...
Module 1
Queens Regent: Katherine of Aragon and the problem of foreign alliances
Katherine of Aragon was Henry VIII's first wife and in marrying a foreign princess, she was arguably his most conventional. However, the political upheavals of the previous generation meant that Katherine was the first foreign-born queen of England since 1445. The political aspect of her marriage was important, because it showcased both the strengths and weaknesses of the international royal marriage system. This module explores the strength of Katherine's personality – the tenacity and intelligence with which she faced the attempts to divorce her after 1527 were exhibited far earlier in her career, when she had to navigate a regency and the risks posed by her foreign birth.
Unit 1
Queens Regent: Katherine of Aragon and the problem of foreign alliances
Module 2
The Rise and Fall of Anne Boleyn: Politics and personalities at the heart of Tudor government
The final moments of Henry VIII's second wife, Anne Boleyn, are unforgettable in their tragedy and horror. The years that led to Anne's public execution are no less controversial. Although she has often been presented as a scheming vixen or a morality lesson in the dangers of ambition, Anne Boleyn was a product of a world in which ambition and power-politics were omnipresent. In this lecture, the extraordinary trajectory of Anne's career is discussed to examine not just why she rose and fell, but also how the Tudor system enabled one charismatic personality to impact upon government so forcefully.
Unit 1
The Rise and Fall of Anne Boleyn: Politics and personalities at the heart of Tudor government
Module 3
Sweet Lady: Jane Seymour and the quest for the perfect Tudor queen
Jane Seymour's time as queen was short. In a moment of brutal irony, she was killed after giving birth to the son that would have safeguarded her position. In the aftermath of her death, she was eulogised as part of the Tudor dynasty's propaganda that sought to link her to Henry VIII's mother, Elizabeth of York, as part of a chain of perfect royal motherhood. In this module, Jane's legacy is used to explore the expectations and realities surrounding medieval and Tudor queenship, and whether the romantic legends surrounding her are in any way justified.
Unit 1
Sweet Lady: Jane Seymour and the quest for the perfect Tudor queen
Module 4
On Foreign Shores: Anne of Cleves and the experience of royal arranged marriages
Infamously, Henry VIII ended his marriage to Anne of Cleves because he claimed he found her too physically repulsive to have sex with. Many royals found themselves disgusted by, or indifferent to, their partners, but few were selfish enough to up-end years of diplomacy by seeking a divorce. Anne of Cleves's experience was in many ways typical of a princess on the royal marriage market, but also achingly and horribly unique. In this module, Anne's short marriage is used to explore what early modern royal brides could experience.
Unit 1
On Foreign Shores: Anne of Cleves and the experience of royal arranged marriages
Module 5
The Queen in the North: Catherine Howard and the Queen as a symbol of Tudor monarchy
In 1541, Henry VIII and his fifth wife, Queen Catherine Howard, embarked on a tour of the previously-rebellious north of England. Throughout the journey, the young Queen was used to underscore the nature of monarchy and the expectations of obedience. This module focuses on the tour of the North and how queens were both private individuals and public symbols in Tudor government.
Unit 1
The Queen in the North: Catherine Howard and the Queen as a symbol of Tudor monarchy
Module 6
The Crises of 1546: Katherine Parr and the attack on the Queen's household
Katherine Parr is remembered in historical rhyming games as the Queen who "survived" marriage to Henry VIII, yet in 1546 her fervent Protestant faith brought her perilously close to ruin. Conservative suspicions regarding the independence and religious sympathies of the Queen and her ladies resulted in the torturing of a young evangelical preacher as part of a plot to ruin the Queen. Exploring the crises of 1546, this module examines a fascinating incident and what it tells us about both Queen Katherine and Tudor politics in the last year of Henry VIII's reign.
Unit 1
The Crises of 1546: Katherine Parr and the attack on the Queen's household
Module 7
The Ghosts of Queens: The importance and fascination of Henry VIII's marriages
500 years after their deaths, the six wives of Henry VIII continue to fire the imagination. They have become fixtures in popular culture – the subjects of numerous biographies, novels, plays, television shows, movies, operas, cartoons, and even a Broadway musical. Their faces peep out from thousands of souvenirs. There are Facebook fan-pages for them. They have their zealous defenders and passionate critics. Why have they remained so popular and equally divisive? How has their legend been re-invented and revitalised by the age of Hollywood, television and best-selling novels? This module examines these questions.
Unit 1
The Ghosts of Queens: The importance and fascination of Henry VIII's marriages