This five-unit course examines the fascinating subject of English law and those who broke it. From Anglo-Saxon kings of the 7th century to prison reformers of the 19th century, this course uncovers some unlikely stories of justice and what it meant to the people of the time. To concentrate on crime and punishment in just one small country may sound limited but England's ideas of communities that policed themselves, trial by jury and the concept of swearing upon oath to tell the truth in a court of law travelled around the world. From the USA to India, Canada to Australia and New Zealand, these same principles apply today. In this course, we uncover the origins of these methods of dealing with wrong-doers.
Note: This is an online course of downloadable or streaming audio lectures (plus transcripts) which can be done in your own time and you have lifetime access to the course once you have signed up and paid. There is no set start or end date, you can do it at your own pace. It is open internationally.
Click on "Full description" to find out more and click on the "Buy Now" tab to sign up and purchase.
Full Description
The course explores crime and punishment in England over 1,300 years of social change, from the Anglo-Saxons to the Victorians. Sometimes barbaric, sometimes surprisingly enlightened, this is the story of the evolution of the justice system. Did you know the Anglo-Saxons allowed wives to divorce their husbands, if they were unhappy with the marriage, and take half the property with them? This civilised attitude was not reinstated in England until the 20th century. Did you know that one notorious highwayman was actually a woman, that animals could be found guilty of murder and that the art of fingerprinting was first used in India so illiterate people could 'sign' documents?
Course Units:
Lesson 1 - Anglo-Saxon and Norman Lawmakers - Toni looks at Anglo-Saxon legislation which still influences our laws in the twenty-first century, how Anglo-Saxon trials worked, laws introduced by William the Conqueror and a specific case from the mid-13th-century.
Lesson 2 - Law and Order in Medieval London - In lesson 2, Toni considers how King Richard III tried to improve the English legal system, how the laws were enforced in medieval London, the London gaols and experiences of two famous prisoners of the time.
Lesson 3 - Tudor & Stuart Law and Disorder - In this lesson, Toni looks at thieving and begging, the use of torture, the dangers associated with travel in the Stuart period and a famous highwaywoman, prostitution and witchcraft.
Lesson 4 - Thief-takers and Prison-breakers of the 18th-century - In this lesson, we are introduced to famous thief-takers and prison-breakers, hear some wild stories of daring escapes, and hear about how men like Dick Turpin and Swift Nick got their comeuppance.
Lesson 5 - Victorian Policing, Murder and other Crimes - In this final lesson, we learn about the origins of England's police force and how it developed, the development of forensic science and the stories of some of the period's most notorious criminals.
Buy NOW
What's included
Course Expert
Reviews
Questions
Gift Certificate
($25 is approximately £20.40/€23.50/38.90AUD)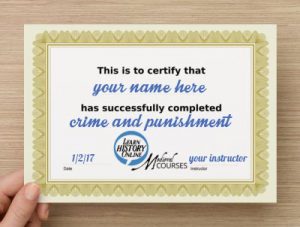 150 minutes (2 hours 30 minutes) of audio lectures.
5 lessons - streaming audio or downloadable audio mp3 files.
Downloadable PDF transcripts of each lesson.
End of unit quizzes.
A further reading list.
End of course certificate.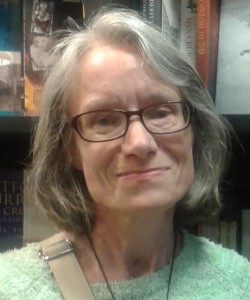 Toni Mount is an author, history teacher and an enthusiastic life-long-learner. She's a member of the Research Committee of the Richard III Society and a library volunteer where she leads a Creative Writing group. She attends history events as a costumed interpreter.
She earned her research MA from the University of Kent in 2009 through her study of a medieval medical manuscript held at the Wellcome Library in London. Her BA (with First-class Honours) and her Diploma in European Humanities are from the Open University. Her Cert. Ed (in Post-Compulsory Education and Training) is from the University of Greenwich. Recently, she completed a Diploma in Literature and Creative Writing with the Open University. She's currently studying a range of modules on contemporary science and technology also with the OU.
Toni has written and published books including The Medieval Housewife & Other Women of the Middle Ages, Dragon's Blood & Willow Bark : The Mysteries of Medieval Medicine, Everyday Life in Medieval London, and Richard III King of Controversy. She is also the author of the Sebastian Foxley Medieval Mystery Series.
Do I need to do the quizzes to complete the course?
No, they're optional but they're a good way of ensuring that you've taken in the information and they're also fun too.
How long does the course take?
You can do the course in your own time. Each lecture is between 15 and 30 minutes in length and you watch or listen to them at your convenience, so you can set your own pace. You have lifetime access to the course.
Do I need to buy any books or extra materials?
No, the audio lectures and transcripts are all you need. There is a list of further reading material if you want to read more about the subject, but this is optional.
When does the course start?
Our courses are online and you can start at any time and complete the course in your own time.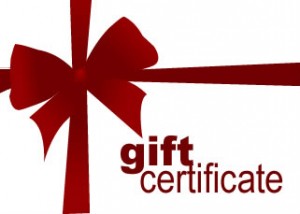 After purchasing this gift certificate you will be redirected to a page with a
printable gift certificate code
. This code will enable the user to have
FULL ACCESS
to the course you have chosen, when redeemed.
Make the day of a history lover with these gift certificates...
Module 1
Anglo-Saxon and Norman Lawmakers
Toni looks at Anglo-Saxon legislation which still influences our laws in the twenty-first century, how Anglo-Saxon trials worked, laws introduced by William the Conqueror and a specific case from the mid-13th-century.
Unit 1
Anglo-Saxon and Norman Law-makers
Module 2
Law and Order in Medieval London
In lesson 2, Toni considers how King Richard III tried to improve the English legal system, how the laws were enforced in medieval London, the London gaols and experiences of two famous prisoners of the time.
Unit 1
Law and Order in Medieval London
Module 3
Tudor & Stuart Law and Disorder
In this lesson, Toni looks at thieving and begging, the use of torture, the dangers associated with travel in the Stuart period and a famous highwaywoman, prostitution and witchcraft.
Unit 1
Tudor and Stuart Law and Disorder
Module 4
Thief-takers and Prison-breakers of the 18th-century
In this lesson, we are introduced to famous thief-takers and prison-breakers, hear some wild stories of daring escapes, and hear about how men like Dick Turpin and Swift Nick got their comeuppance.
Unit 1
Thief-takers and Prison-breakers of the 18th Century
Module 5
Victorian Policing, Murder and other Crimes
In this final lesson, we learn about the origins of England's police force and how it developed, the development of forensic science and the stories of some of the period's most notorious criminals.
Unit 1
Victorian Policing, Murder and Other Crimes