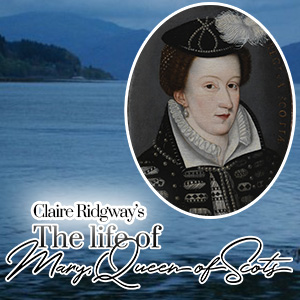 Mary, Queen of Scots is one of those divisive but fascinating 16th-century personalities. For some, she is the queen who was ruled by her heart and made reckless decisions, to others she is a tragic victim, and to others still, she is the rival of Elizabeth I who actively plotted against the English queen.
But who was Mary, Queen of Scots?
In this detailed course, historian and author Claire Ridgway takes you through Mary's life chronologically, from the background of the royal House of Stewart, through Mary's life, right through to her legacy.
The Life of Mary, Queen of Scots course includes the following units:
Introduction
Background and Roots – The Stewarts of Scotland
Early Life - The War of the Rough Wooing
A New Life in France
Queen of France
Return to Scotland
A Second Marriage
A Murder and another Marriage
Mary Loses her Crown
England and the Casket Letters
Imprisonment
Plots
Mary's Trial
Mary's Execution
Mary, Queen of Scots, a victim of the victors of history, and her real nemesis
The Legacy of Mary, Queen of Scots - In my end is my beginning
The Life of Mary, Queen of Scots course also includes:
End of unit quizzes
Family tree
Recommended further reading and links to primary sources for your own research
Information on Mary, Queen of Scots' places
End of course certificate
Note: This is an online course of downloadable or streaming video and audio lectures (plus transcripts) which can be done in your own time and you have lifetime access to the course once you have signed up and paid. There is no set start or end date, you can do it at your own pace. It is open internationally.
Click on the "Buy Now" tab to sign up and purchase.
Click on "Full description" to find out more and click on the "Buy Now" tab to sign up and purchase.
Full Description
Course Units:
Coming soon!
Buy NOW
What's included
Course Expert
Reviews
Questions
Gift Certificate
($75 is approximately £59.20/€69.00/112.70AUD)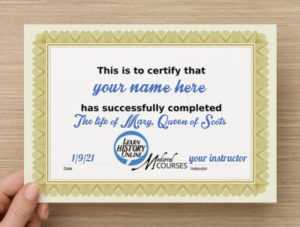 Streaming video lessons plus downloadable audio mp3 files.
Downloadable PDF transcripts of each lesson.
End of unit quizzes.
Resources - Where to find primary sources on Mary, Queen of Scots.
Family tree
Bibliography and further reading list.
Mary, Queen of Scots places
End of course certificate.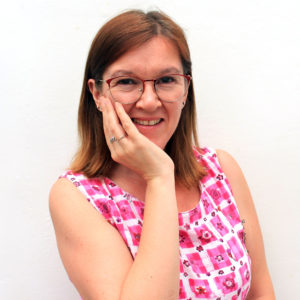 Claire Ridgway is the founder of The Anne Boleyn Files and Tudor Society websites. She has published ten Tudor history books, including
The Boleyns of Hever Castle
(co-written with Dr Owen Emmerson),
The Fall of Anne Boleyn: A Countdown
and
The Anne Boleyn Collection
, and is co-author of a biography of George Boleyn, Anne Boleyn's brother. Claire has written many guest posts for Tudor history websites and blogs, and has also written for BBC History Extra and
History of Royals
magazine.
Claire has been researching Anne Boleyn and Tudor history full-time since February 2009 and enjoys sharing her research on the Anne Boleyn Files website, with Tudor Society members, through her YouTube channel and social media.
Do I need to do the quizzes to complete the course?
No, they're optional but they're a good way of ensuring that you've taken in the information and they're also fun too.
How long does the course take?
You can do the course in your own time. Just watch or listen to lessons at your convenience, so you can set your own pace. You have lifetime access to the course.
Do I need to buy any books or extra materials?
No, the audio lectures and transcripts are all you need. There is a list of further reading material if you want to read more about the subject, but this is optional.
When does the course start?
Our courses are online and you can start at any time and complete the course in your own time.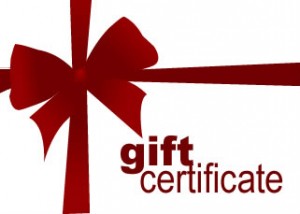 After purchasing this gift certificate you will be redirected to a page with a
printable gift certificate code
. This code will enable the user to have
FULL ACCESS
to the course you have chosen, when redeemed.
Make the day of a history lover with these gift certificates...
Module 1
Introduction

Claire Ridgway introduces this course on Mary, Queen of Scots.

Unit 1
Introduction to the course
Module 2
Background and Roots - The Stewarts of Scotland
Mary, Queen of Scots, was a member of the House of Stewart/Stuart, a royal house of Scotland which took its name from the office of High Steward of Scotland, an office held by the Stewart family founder, Walter FitzAlan in the 12th century. In this lesson, Claire explains Mary's family background and how she was linked to the Tudors.
Unit 1
Background and Roots
Module 3
Early Life - The War of the Rough Wooing
Mary was just an infant when the Treaties of Greenwich were agreed between England and Scotland, promising her in marriage to Prince Edward, Henry VIII's son and heir. However, Scotland soon broke the terms of the treaties and war ensued. Find out more about the treaties, why Scotland broke the terms and what happened next.
Unit 1
Early Life - The War of the Rough Wooing
Module 4
A New Life in France
Scotland's alliance with France agreed the marriage of Mary to the Dauphin of France, and Mary was sent to France to be educated, in preparation for this marriage. In this unit, you will learn about Mary's time in France, the ill-health she suffered in her teens, her education, betrothal and marriage.
Unit 1
A New Life in France
Module 5
Queen of France
In 1559, Henry II of France died and Mary's husband, Francis, succeeded him, making Mary queen. However, her time as Queen of France was to be short. Find out about Mary's time as queen, the situation in Scotland at that time, the influence of Catherine de' Medici on the young Mary, Francis's death and what led to Mary deciding to return to her home country of Scotland.
Unit 1
Queen of France
Module 6
Return to Scotland
Mary, Queen of Scots, returned to Scotland in August 1561, having been away for 13 years. In this unit, you will hear about how Mary was received by the Scottish people and learn about her meeting with the famous reformer, John Knox, which reduced her to tears, as well as the religious issues that Mary had to face and the question of who she should marry.
Unit 1
Return to Scotland
Module 7
A Second Marriage
In 1565, Mary, Queen of Scots, took Henry Stuart, Lord Darnley, as her second husband. Find out how this marriage came about, why the marriage made sense, but how it quickly soured and led to the murder of Mary's private secretary. We end this module with Mary giving birth to a son and heir, the future King James VI/I.
Unit 1
A Second Marriage
Module 8
A Murder and another Marriage
Henry Stuart, Lord Darnley, Mary's second husband, was murdered in February 1567, but what led to his murder and what happened. Find out all about Darnley's enemies and his murder, as well as being introduced to James Hepburn, Earl of Bothwell, who was linked to Darnley's assassination, and who replaced him as Mary's husband.
Unit 1
A Murder and Another Marriage
Module 9
Mary Loses her Crown
Mary's marriage to the Earl of Bothwell led to trouble with the Protestant Lords, who rose up against the couple. Find out exactly what happened in the summer of 1567, how Mary ended up being imprisoned and suffering a miscarriage, what led to her abdication and the succession of her son as James VI, and how Mary eventually escaped.
Unit 1
Mary Loses Her Crown
Module 10
England and the Casket Letters
Following her escape from Lochleven, Mary crossed the border into England, hoping for Elizabeth's help in regaining her throne. However, she'd end up being imprisoned once more and being accused of involvement in Darnley's murder. Find out more about Mary's arrival in England, the special commission that was set up to review the evidence against her, and the evidence they were given - the infamous Casket Letters.
Unit 1
England and the Casket Letters
Module 11
Imprisonment
Mary was a prisoner in England from 1568 to 1587, and in this module you'll learn more about her time with the Earl of Shrewsbury as her gaoler, a man who was married to the formidable Bess of Hardwick. This module also covers how Mary came to be linked with Thomas Howard, 4th Duke of Norfolk, his links with the Rising of the North, and the implications of Elizabeth being excommunicated in 1570.
Unit 1
Imprisonment
Module 12
Plots
During her imprisonment in England, Mary was implicated in several plots. In this module, you will learn about the Ridolfi Plot, the Throckmorton Plot and how the Babington Plot led to Mary's final undoing. This unit also considers Mary's ill-health during her imprisonment, and how much freedom she actually had.
Unit 1
Plots
Module 13
Mary's Trial
The Babington Plot had provided Elizabeth I's government with damning evidence against Mary, Queen of Scots, but how could Elizabeth try and execute a fellow anointed sovereign? In this module, you'll learn all about Mary's trial in October 1586, the evidence produced against Mary, her reaction to it and the judgement against her. You'll also hear about how Parliament had to petition the reluctant Elizabeth I to proclaim Mary's sentence, and how Elizabeth actually wanted the situation handled by the Bond of Association.
Unit 1
Mary's Trial
Module 14
Mary's Execution
Mary, Queen of Scots was finally executed on 8th February 1587. In this module, you'll learn all about how and why Elizabeth I finally signed her death warrant, why she was kept in the dark about the execution, and what happened at Mary's execution at Fotheringhay. You'll also hear about the aftermath of the execution, and how Mary's son, James, had his mother's remains moved in his reign and what he had inscribed on her tomb.
Unit 1
Mary's Execution
Module 15
Mary, Queen of Scots, a victim of the victors of history, and her real nemesis
Historian John Guys sees Mary, Queen of Scots,as a victim of the pen as much as the executioner, and I agree. But what does that mean? How much of Mary's story is propaganda, and who was her real enemy in the 16th century? Who was really responsible for her fall and execution? In this module, Claire examines William Cecil, Lord Burghley's role in Mary's fall and why he was intent on bringing her down.
Unit 1
A victim of the victors of history, and her real nemesis
Module 16
The Legacy of Mary, Queen of Scots – In my end is my beginning
The story of Mary, Queen of Scots is one, like that of Anne Boleyn, that still fascinates many people around the world today, and is one that still provokes debate. In this final unit, Claire looks at what Mary's contemporaries said about her, how she is viewed today, and how she has inspired movies and novels.
Unit 1
The Legacy of Mary, Queen of Scots
Unit 2
Mary, Queen of Scots Films