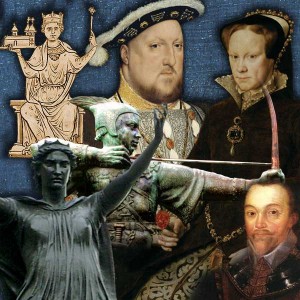 Enjoy this exciting new course from historian and author Toni Mount where we reconsider the good, the bad and the ugly characters from British history, and decide for yourself whether history got it right or wrong. Are the reputations of these men and women justly deserved or should they be viewed in a new light?
Each of the ten units, carefully and lovingly narrated by Claire Ridgway, looks at the often misunderstood reputation of a significant historic character, from the early English Queen Boudicca to the "pirate" Sir Francis Drake. These intriguing characters, responsible for major changes in Britain's history, had to deal with events of international importance from the Roman invasion to the Spanish Armada. How would you have managed if the decisions they made were down to you - were they heroes or villains? You get to decide!
Note: This is an online course of downloadable or streaming audio lectures which can be done in your own time and you have lifetime access to the course once you have signed up and paid. There is no set start or end date, you can do it at your own pace.
Click on "Full description" to find out more and click on the "Buy Now" tab to sign up and purchase.
Full Description
Eleven fascinating historical personalities are covered in this ten unit course:
Who were the real Queens Cartimandua and Boudicca?
Could Harold have beaten the Normans in 1066?
Was Hereward the Wake a resistance leader or trouble-maker?
Was King Stephen a hero in a bad situation or a villainous usurper?
Was Robin Hood a ballad-maker's invention or was he a real man? And, if so, did he heroically steal from the rich to give to the poor?
Was John of Gaunt "an over-mighty subject" who tried to throw his weight around and was desperate to wear a king's crown?
Did the Earl of Warwick choose the right side in the Wars of the Roses?
Should Mary I really go down in history as "Bloody Mary" or was there more to her reign than that?
What about the icon that is Henry VIII – Renaissance Prince or tyrannical monster?
And was Sir Francis Drake a swashbuckling hero or is there a dark side to this man?
Through examining the historical evidence, historian Toni Mount examines the lives, achievements and failures of these famous historical characters, considering the points for and against them being "heroes". They're all fascinating people!
Buy NOW
What's included
Course Expert
Reviews
Questions
Gift Certificate
($49.99 is approximately £39.40/€46.00/75.20AUD)
We use the secure payment portal "Stripe" which will take your payment from a standard debit or credit card. Your payments are taken through a secure (SSL) portal and will be completely safe.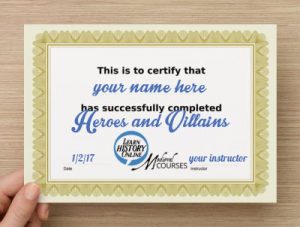 10 units/lessons of approximately 30 minutes in length.
5 hours 7 minutes of audio - both streaming and downloadable mp3 files.
Downloadable PDF transcripts of each lecture.
End of unit voting - hero or villain?
End of course certificate.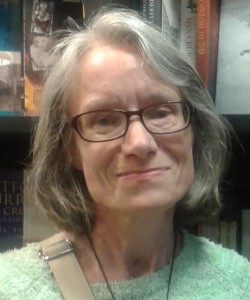 Toni Mount is an author, history teacher and an enthusiastic life-long-learner. She's a member of the Research Committee of the Richard III Society and a library volunteer where she leads a Creative Writing group. She attends history events as a costumed interpreter.
She earned her research MA from the University of Kent in 2009 through study of a medieval medical manuscript held at the Wellcome Library in London. Her BA (with First-class Honours) and her Diploma in European Humanities are from the Open University. Her Cert. Ed (in Post-Compulsory Education and Training) is from the University of Greenwich. Recently, she completed a Diploma in Literature and Creative Writing with the Open University. She's currently studying a range of modules on contemporary science and technology also with the OU.
Toni has written and published books including The Medieval Housewife & Other Women of the Middle Ages, Dragon's Blood & Willow Bark : The Mysteries of Medieval Medicine, Everyday Life in Medieval London, and Richard III King of Controversy.
How long does the course take?
You can do the course in your own time. Each lecture is around 30 minutes in length and you can download them and listen to them at your convenience, so you can set your own pace. You have lifetime access to the course.
Do I need to buy any books or extra materials?
No, the audio lectures and transcripts are all you need.
When does the course start?
Our courses are online and you can start at any time and complete the course in your own time.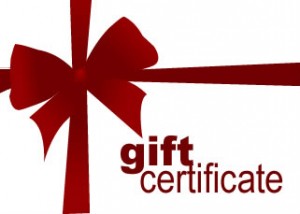 After purchasing this gift certificate you will be redirected to a page with a
printable gift certificate code
. This code will enable the user to have
FULL ACCESS
to the course you have chosen, when redeemed.
Make the day of a history lover with these gift certificates...
Module 1
Queens Cartimandua and Boudicca
In this unit we consider the two earliest known British queens: Cartimandua of the Brigantes tribe in northern Britain and Boudicca of the Iceni tribe in East Anglia. Both queens were written about by Tacitus, the famous Roman historian, and both have become surrounded by legend and controversy. But who were they and what did they do?
Unit 1
Queens Cartimandua and Boudicca
Module 2
King Harold II
King Harold II (c.1020 – 14 October 1066) was the last Anglo-Saxon King of England. He reigned for just ten months, but has gone down in the history as the king who was defeated by William the Conqueror at the Battle of Hastings and who was killed by an arrow in the eye. This unit tells of his family's rise to power, how Harold became king and how he came to be defeated in 1066. It also considers his claim to the throne - was Harold a rightful king or usurper?
Unit 1
King Harold II
Module 3
Hereward the Wake
Hereward the Wake is virtually a footnote in history, frequently overlooked against the upheaval of the times, yet what he did was amazing enough to become the stuff of legend. Who was Hereward and how did he achieve the kind of reputation that made men of power flock to his banner and how did he withstand the full impact of the Norman fighting machine? Was he an Anglo-Saxon resistance leader or trouble-maker?
Unit 1
Hereward the Wake
Module 4
King Stephen
King Stephen, or Stephen of Blois, was a grandson of William the Conqueror and ruled England from 1135 to his death in 1154. He rose at the court of his predecessor and his uncle, Henry I, through his high birth, loyal service and impeccable manners, but was he really a leader? Was Stephen a hero in a bad situation or a villainous usurper?
Unit 1
King Stephen
Module 5
Robin Hood
This unit is rather different from others in this course because this time we not only have to think about Robin Hood as a possible hero or villain, but whether he actually existed at all. We examine the historical foundation an context, possible candidates for the real Robin Hood, Little John and the Sheriff of Nottingham, and the evidence behind the legend. Did Robin really exist and, if so, was he a hero of the common people or a villain?
Unit 1
Robin Hood
Module 6
John of Gaunt
John of Gaunt, Duke of Lancaster, was the fourth son of Edward III and the father of King Henry IV. Some of his contemporaries viewed him as "an over-mighty subject" who wanted to wear a crown, be it the crown of England or Castile, and he certainly made many enemies, but was he just trying to do the best for his king and country?
Unit 1
John of Gaunt
Module 7
Richard Neville
Richard Neville, Earl of Warwick, has gone down in history as "the Kingmaker". He helped put Edward IV on the throne but then swapped sides and supported the ousted King Henry VI. Was he an arrogant, haughty and ambitious man who wanted the crown for his daughters, or was he a loyal servant betrayed by his king? Who was the real Richard Neville?
Unit 1
Richard Neville, Earl of Warwick
Module 8
Henry VIII
Henry VIII was an attractive and charismatic man, well-educated and accomplished as a true Renaissance prince. He ruled with absolute power, perhaps the last English monarch to do so. His overwhelming desire to provide England with a male heir led to the thing he is most remembered for today: his six wives. His image is one of a lustful, egotistical, deceitful, opinionated and insecure man, guilty of wasteful luxuries and useless wars that emptied the treasury. How should we judge him? Was he a good king who reformed the church and ensured the succession or was he a tyrant, lustful and land-grabbing at everyone else's expense?
Unit 1
King Henry VIII
Module 9
Mary I
Mary I has gone down in history as "Bloody Mary", the queen who burned Protestants at the stake and who lost Calais, but there is far more to her and her reign than that, and that's what we examine in this unit. Finally, we ask ourselves if we see her as "Mary, Mary, quite contrary" or as a strong woman doing her best.
Unit 1
Queen Mary I
Module 10
Sir Francis Drake
Depending on what side you're on, Sir Francis Drake is the famous Elizabethan buccaneer or the pirate and slave-trader who was "the Terror of the Seas". In this unit, we examine the fascinating career of this Elizabethan man who was the first Englishman to circumnavigate the globe and who is credited with defeating the Spanish Armada. Was he a swashbuckling hero or is there a dark side to this man?
Unit 1
Sir Francis Drake